Scaffolding Tower
manufacturer, supplier, and exporter in India
Scaffolding Tower represents an advanced and versatile solution in the construction industry, designed to provide safe access to elevated areas. This towering structure is meticulously engineered to meet the demanding requirements of complex construction projects. Scaffolding Towers are renowned for their adaptability, making them an essential tool for contractors and builders seeking efficiency and safety in their operations. Prime Steeltech stands at the forefront of the industry, playing a pivotal role in providing cutting-edge Scaffolding Towers.

Scaffolding Tower is a vertically extended structure, characterized by its multi-tiered design. It consists of a series of platforms and support frames, which can be adjusted to varying heights. This innovative system allows workers to reach elevated areas with ease, enabling them to conduct tasks such as painting, installation, and maintenance with precision and safety.

As a leading manufacturer, exporter, and supplier, Prime Steeltech has revolutionized the scaffolding industry since its inception. Renowned for producing rigorously tested and superior-grade products, Prime Steeltech ensures the highest standards of safety and reliability. With a steadfast commitment to excellence, Prime Steeltech remains a trusted partner for construction projects worldwide, ensuring that the scaffolding towers offered meet and exceed industry expectations.

Scaffolding Tower represents a remarkable advancement in the construction industry, offering a safe and adaptable solution for accessing elevated work areas. With Prime Steeltech's dedication to producing top-quality products, the Scaffolding Towers offered play a critical role in ensuring the safety and efficiency of construction endeavours across various sectors.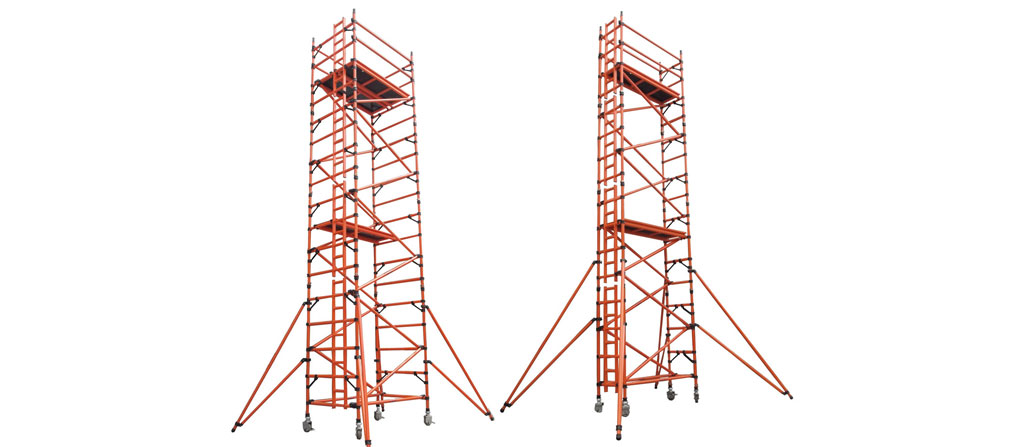 Features and advantages of Scaffolding Tower
Scaffolding Towers are sophisticated structures that offer a range of features and advantages, making them a crucial asset in the construction industry. Here are the key attributes:
Height Customization: Scaffolding Towers can be adjusted to varying heights, providing flexibility to reach specific areas of a construction project. This adaptability ensures workers have safe access to elevated workspaces.
Multi-tiered Platforms: They consist of multiple platforms stacked on top of each other, providing ample space for workers, tools, and materials. This multi-tiered design enhances efficiency and productivity on the job site.
Enhanced Stability: Scaffolding Towers are engineered for stability, with robust support frames and secure locking mechanisms. This stability minimizes swaying and provides a secure platform for workers to perform tasks at heights.
Easy Assembly and Disassembly: These towers are designed for quick and efficient setup, saving valuable time on construction sites. Disassembly is equally straightforward, promoting efficient project progression.
Mobility and Portability: Many Scaffolding Towers are equipped with wheels or casters, allowing for easy movement around the job site. This mobility enhances flexibility and adaptability in construction operations.
Safety Features: Scaffolding Towers come with safety features such as guardrails, non-slip platforms, and secure locking systems. These features are designed to minimize the risk of accidents and ensure the well-being of workers.
Weather-resistant Materials: Many Scaffolding Towers are constructed from weather-resistant materials, ensuring they remain durable and reliable even in challenging environmental conditions.
Compliance with Safety Standards: Many Scaffolding Towers are manufactured to meet or exceed industry safety standards and regulations, ensuring they provide a secure working platform for construction teams.
Increased Productivity:The spacious platforms of Scaffolding Towers allow for multiple workers to operate simultaneously, increasing productivity and efficiency on the job site.
Scaffolding Towers offer a range of features and advantages that make them invaluable tools in the construction industry. Whether for residential, commercial, or industrial projects, Scaffolding Towers provide a reliable and efficient solution for accessing elevated work areas.
For Detailed Product Information Contact Us at +919393161504,
If you need Any Assistance selecting our Products that fits your requirements.
Scaffolding Tower offered by Prime Steeltech
Staircase Tower: The Staircase Tower provided by Prime Steeltech is a specialized scaffolding tower equipped with a built-in staircase. Scaffolding staircase tower allows for safe and easy access to elevated areas, making it particularly suitable for projects where frequent movement up and down the tower is required.
Movable Scaffolding Tower: The Movable Scaffolding Tower is designed with wheels or casters, allowing for easy mobility around the construction site. Scaffolding mobile tower offers flexibility in positioning, making portable scaffolding tower an ideal choice for projects with changing work locations.
Fixed Scaffolding Tower: The Fixed Scaffolding Tower is a stable and secure structure that is stationary once assembled. It provides a reliable platform for workers to perform tasks at elevated heights. This type of tower is commonly used in situations where a stable and permanent platform is needed.
Prime Steeltech offers a comprehensive range of scaffolding towers, each tailored to meet specific construction needs. These towers play a vital role in ensuring the stability, safety, and efficiency of construction operations.
Note: Looking for something specific? Customisation is also available with the above products. Please specify in the Enquire now page Scaffolding Tower with various options and different sizes are available with us, Contact Us at +919393161504 for detailed product info, If you need any assistance selecting our products that fits your requirements.
Applications of Scaffolding Tower
Scaffolding Towers are versatile structures widely used in the construction industry for various tasks that require access to elevated areas. Here are the common applications:
Construction and Renovation: Scaffolding Towers are extensively used in construction projects for tasks such as bricklaying, plastering, painting, and installation. Their adjustable height and stability make them indispensable for accessing different levels of a building.
Maintenance and Repairs: Whether for commercial buildings, residential complexes, or industrial facilities, Scaffolding Towers provide a safe and secure platform for maintenance and repair work. This includes tasks like window replacement, facade repairs, and structural inspections.
Electrical and HVAC Work: Electricians and HVAC technicians utilize Scaffolding Towers to access high ceilings, fixtures, and conduits for installation, maintenance, and repairs. The towers offer a stable platform for these specialized tasks.
Window Cleaning and Installation: Scaffolding Towers are employed for window cleaning services, allowing workers to reach high and often hard-to-access windows. They are also crucial during window installation, ensuring precise fitting and sealing.
Exterior Façade Work: Scaffolding Towers are used for exterior work on buildings, including cleaning, painting, and applying protective coatings. Their stability and height adjustability enable workers to cover large surface areas.
Roofing Projects: Roofers use Scaffolding Towers to access different sections of a roof, facilitating tasks like shingle replacement, gutter installation, and repairs. The towers offer a secure platform even on sloped surfaces.
Installation of Signage and Banners: In commercial settings, Scaffolding Towers provide a safe and elevated platform for installing signage, banners, and displays. This ensures visibility and branding for businesses.
Film and Photography Production: In the film and photography industry, Scaffolding Towers are utilized to create elevated platforms for capturing shots from unique angles. They provide stability for camera equipment and crew members.
Events and Stage Set-ups: Scaffolding Towers play a crucial role in event management, providing platforms for stages, lighting, sound equipment, and viewing areas for large gatherings, concerts, and exhibitions.
The adaptability and stability of Scaffolding Towers make them essential tools for a wide range of industries and projects.
Prime Steeltech Exports Market Area
At Prime Steeltech, we offer Scaffolding Tower across markets to several destinations across globe to several destinations including India and Indian Subcontinent, Asia, Middle East, North America, and South America. Prime Steeltech is committed to customer fulfilment by delivering best quality products at competitive market prices.
Indian Cities:
Agartala
Bhandara
Dehradun
Imphal
Lakshadweep
Parbhani
Solapur
Agra
Bhavnagar
Delhi
Indore
Latur
Patna
Srinagar
Ahmedabad
Bhilai
Dhule
Jabalpur
Lucknow
Puducherry
Surat
Ahmednagar
Bhiwandi
Dindori
Jaipur
Ludhiana
Pune
Thane
Aizawl
Bhopal
Durgapur
Jalandhar
Madurai
Raipur
Thoothukudi
Akola
Bhubaneshwar
Erandol
Jalgaon
Malegaon
Rajahmundry
Tirupur
Allahabad
Bihar
Faridabad
Jalna
Mangalore
Rajapur
Tripura
Amravati
Bikaner
Gadchiroli
Jammu
Meerut
Rajkot
Vadodara
Amritsar
Buldhana
Ghaziabad
Jamshedpur
Mumbai
Ramtek
Varanasi
Ankleshwar
Chandigarh
Gurgaon
Jhansi
Mysore
Ranchi
Visakhapatnam
Asansol
Chandrapur
Guwahati
Kanpur
Nagpur
Ratlam
Warangal
Assam
Chennai
Gwalior
Karad
Nanded
Ratnagiri
Wardha
Aurangabad
Chimur
Haridwar
Khed
Nandurbar
Raver
Washim
Bangalore
Coimbatore
Hatkanangle
Kochi (Cochin)
Nashik
Sangli
Yavatmal
Baramati
Dadar and Nagar Haveli
Hingoli
Kolhapur
Nellore
Satara
Pune
Beed
Dahanu
Hospet
Kolkata
Noida
Shirdi
Salem
Bellary
Daman and Diu
Hyderabad
Kopargaon
Osmanabad
Shirur
Thiruvananthapuram
Bhadravati
Darjeeling
Ichalkaranji
Kozhikode
Pandharpur
Siliguri
Indian States:
Andhra Pradesh
Chhattisgarh
Himachal Pradesh
Madhya Pradesh
Mizoram
Rajasthan
Tripura
Arunachal Pradesh
Goa
Jharkhand
Maharashtra
Nagaland
Sikkim
Uttar Pradesh
Assam
Gujarat
Karnataka
Manipur
Odisha
Tamil Nadu
Uttarakhand
Bihar
Haryana
Kerala
Meghalaya
Punjab
Telangana
West Bengal
Countries:
Afghanistan
Bulgaria
France
Italy
Namibia
Russia
Trinidad and Tobago
Algeria
Canada
Gabon
Japan
Nepal
Saudi Arabia
Turkey
Angola
Chile
Gambia
Jordan
Netherlands
Serbia
Ukraine
Argentina
China
Germany
Kazakhstan
Nigeria
Singapore
United Arab Emirates
Australia
Colombia
Ghana
Kenya
Norway
Slovakia
United Kingdom
Austria
Costa Rica
Greece
Kuwait
Oman
South Africa
United States
Azerbaijan
Croatia
Hong Kong
Lebanon
Pakistan
South Korea
Venezuela
Bahrain
Czech Republic
Hungary
Libya
Peru
Spain
Vietnam
Bangladesh
Denmark
India
Lithuania
Philippines
Sri Lanka
Yemen
Belarus
Ecuador
Indonesia
Macau
Poland
Sweden
Zimbabwe
Belgium
Egypt
Iran
Malaysia
Portugal
Switzerland
New Zealand
Bhutan
Estonia
Iraq
Mexico
Puerto Rico
Taiwan
Bolivia
Europe
Ireland
Mongolia
Qatar
Thailand
Brazil
Finland
Israel
Morocco
Romania
Tibet
Contact Prime Steeltech experts for detailed information
about your requirement to select the right products for your application needs!
Do you have any questions or need help with our services and products?
Submit an Enquiry Form request or Call us at +919393161504
Note: Please note that the information on this document is for illustration purposes only as information may vary with individual products, their grade and applications industries or uses and therefore cannot be guaranteed as accurate. © Copyright 2020 © Prime Steeltech All Rights Reserved (Terms of Use). Recreation of any materials from the site is strictly prohibited without permission. Prime Steeltech' products are sold exclusively through Prime Steeltech' website. Use Terms | Privacy. Please contact us to discuss precise product specifications and requirements and obtain advice on which products are required to suit your exact application needs
[email protected]