Mobile Scaffolding Tower
manufacturer, supplier, and exporter in India
Looking to enhance mobility and safety in your projects?
Unlock a new dimension of mobility and safety with the Movable Scaffolding Tower, meticulously crafted and supplied by Prime Steeltech, a prominent name in the industry. Elevate your projects to unparalleled heights by investing in this top-quality mobile scaffolding tower, proudly manufactured and supplied in Mumbai, India. As one of the largest manufacturers, exporters, and suppliers of scaffolding solutions, Prime Steeltech sets the benchmark for precision engineering and durability. When you choose to purchase a Mobile Scaffolding Tower from us, you're not just acquiring a product, but a guarantee of excellence, ease of movement, and unmatched expertise. Step into efficiency, step up with Prime Steeltech.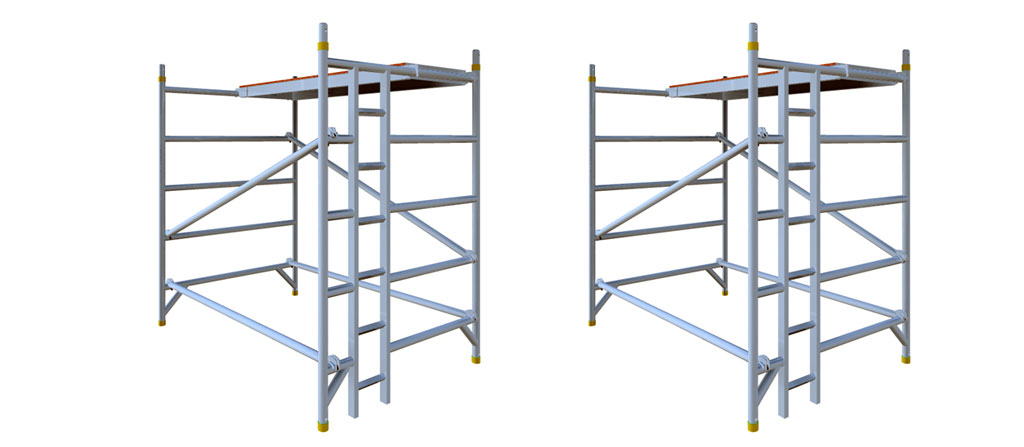 What is Mobile Scaffolding Tower?
The Movable Scaffolding Tower is an advanced scaffolding structure designed for enhanced mobility and flexibility in construction projects. Mobile scaffolding tower offers a cutting-edge solution for accessing elevated work areas. Unlike traditional scaffolding, the Movable Scaffolding Tower is equipped with wheels or casters, allowing for easy relocation within a worksite. This feature greatly improves efficiency and reduces the need for disassembly and reassembly. With Prime Steeltech's commitment to quality and innovation, the Movable Scaffolding Tower stands as a pivotal tool in modern construction practices.
Features and advantages of Mobile Scaffolding Tower
The Movable Scaffolding Tower by Prime Steeltech boasts a range of exceptional features and advantages, setting it apart as a pivotal tool in various construction endeavors:
Tested Load Bearing Capacity: Compliant with British standards, this tower can safely support up to 250 kg/m², ensuring secure operations at elevated heights.
Enhanced Safety with Guard Rails: The tower is equipped with extra stable guard rails, providing an additional layer of safety and stability for workers.
Chassis Beams for Height Extension: Chassis beams enable work at greater heights, allowing for increased versatility and adaptability in various project requirements.
Optimized Stability with Stabilizers: Triangular stabilizers reduce the need for counterweights, ensuring optimal stability while minimizing additional equipment requirements.
Robust, Durable, and Cost-Effective: Crafted with durability in mind, this tower is both robust and economically viable, offering a long-lasting solution for construction needs.
Secure Rung/Stile Joints: Fully welded rung/stile joints provide unshakeable stability, eliminating the risk of twisting or breakage while accommodating heavy loads.
Maintenance-Free Coupling Claws: The tower features coupling claws with automatic locking mechanisms, ensuring hassle-free and safe assembly without the risk of injury from sharp edges.
Safety-First Design: The tower is engineered with rounded edges, eliminating any risk of injury from sharp edges and corners.
Weather and Water Resistant: Equipped with toe boards and guide rails, the tower is built to withstand various weather conditions, providing reliable performance even in challenging environments.
Non-Slip Platforms: The platforms are constructed from high-quality imported wood, providing a secure and stable working surface for increased worker confidence and safety.
Durable Welded Platform Frames: The tower's platform frames are fully welded, ensuring longevity and requiring minimal maintenance over time.
Height-Adjustable Castor Wheels: With 200 mm swivel castors, equipped with a locking mechanism, the tower offers precise level adjustment and ease of maneuverability, with a remarkable load-bearing capacity of 600 kg.
Applications of Mobile Scaffolding Tower
The Movable Scaffolding Tower by Prime Steeltech is an incredibly versatile tool designed to excel in various industries and construction projects. Its adaptability and exceptional features make it an indispensable asset in the following applications:
Construction Sites: Provides safe and convenient access to elevated work areas, enhancing productivity and safety on the job.
Maintenance and Renovation Work: Ideal for tasks requiring access to different levels of a structure, facilitating efficient and secure maintenance and renovation activities.
Facade Installation and Repair: Essential for workers involved in the installation, repair, or maintenance of building facades, ensuring safe access to elevated areas.
Electrical and Plumbing Installations: Facilitates secure access for electricians and plumbers to install or maintain systems at varying heights.
Painting and Finishing Work: Enables precise application of coatings and finishes at various heights, ensuring a professional and even finish.
Demolition Projects: Facilitates safe navigation and access within demolition sites, allowing workers to perform tasks efficiently and securely.
Aircraft Maintenance and Repairs: In aviation settings, the tower is used for accessing different parts of aircraft during maintenance and repair procedures.
Warehouse and Industrial Settings: Valuable for accessing high shelves, performing maintenance tasks, and conducting inventory checks in warehouse and industrial environments.
Event Set-Up and Decorations: In event management and decorations, the tower is utilized for setting up stages, decorations, and lighting arrangements.
Shipyard and Dockyard Work: In maritime industries, the tower aids in ship maintenance, repair, and construction activities.
Architectural Inspections: Architects and engineers rely on the tower for conducting inspections of buildings and structures.
Window Installation and Repairs: Glaziers and window installers use the tower to safely access and install windows at varying heights.
The Movable Scaffolding Tower's versatility, stability, and ease of use make it an indispensable tool across a wide range of industries and construction settings, ensuring safe and efficient vertical movement for workers.
Prime Steeltech Exports Market Area
At Prime Steeltech, we offer Movable Scaffolding Tower across markets to several destinations across globe to several destinations including India and Indian Subcontinent, Asia, Middle East, North America, and South America. Prime Steeltech is committed to customer fulfilment by delivering best quality products at competitive market prices.
Indian Cities:
Agartala
Bhandara
Dehradun
Imphal
Lakshadweep
Parbhani
Solapur
Agra
Bhavnagar
Delhi
Indore
Latur
Patna
Srinagar
Ahmedabad
Bhilai
Dhule
Jabalpur
Lucknow
Puducherry
Surat
Ahmednagar
Bhiwandi
Dindori
Jaipur
Ludhiana
Pune
Thane
Aizawl
Bhopal
Durgapur
Jalandhar
Madurai
Raipur
Thoothukudi
Akola
Bhubaneshwar
Erandol
Jalgaon
Malegaon
Rajahmundry
Tirupur
Allahabad
Bihar
Faridabad
Jalna
Mangalore
Rajapur
Tripura
Amravati
Bikaner
Gadchiroli
Jammu
Meerut
Rajkot
Vadodara
Amritsar
Buldhana
Ghaziabad
Jamshedpur
Mumbai
Ramtek
Varanasi
Ankleshwar
Chandigarh
Gurgaon
Jhansi
Mysore
Ranchi
Visakhapatnam
Asansol
Chandrapur
Guwahati
Kanpur
Nagpur
Ratlam
Warangal
Assam
Chennai
Gwalior
Karad
Nanded
Ratnagiri
Wardha
Aurangabad
Chimur
Haridwar
Khed
Nandurbar
Raver
Washim
Bangalore
Coimbatore
Hatkanangle
Kochi (Cochin)
Nashik
Sangli
Yavatmal
Baramati
Dadar and Nagar Haveli
Hingoli
Kolhapur
Nellore
Satara
Pune
Beed
Dahanu
Hospet
Kolkata
Noida
Shirdi
Salem
Bellary
Daman and Diu
Hyderabad
Kopargaon
Osmanabad
Shirur
Thiruvananthapuram
Bhadravati
Darjeeling
Ichalkaranji
Kozhikode
Pandharpur
Siliguri
Indian States:
Andhra Pradesh
Chhattisgarh
Himachal Pradesh
Madhya Pradesh
Mizoram
Rajasthan
Tripura
Arunachal Pradesh
Goa
Jharkhand
Maharashtra
Nagaland
Sikkim
Uttar Pradesh
Assam
Gujarat
Karnataka
Manipur
Odisha
Tamil Nadu
Uttarakhand
Bihar
Haryana
Kerala
Meghalaya
Punjab
Telangana
West Bengal
Countries:
Afghanistan
Bulgaria
France
Italy
Namibia
Russia
Trinidad and Tobago
Algeria
Canada
Gabon
Japan
Nepal
Saudi Arabia
Turkey
Angola
Chile
Gambia
Jordan
Netherlands
Serbia
Ukraine
Argentina
China
Germany
Kazakhstan
Nigeria
Singapore
United Arab Emirates
Australia
Colombia
Ghana
Kenya
Norway
Slovakia
United Kingdom
Austria
Costa Rica
Greece
Kuwait
Oman
South Africa
United States
Azerbaijan
Croatia
Hong Kong
Lebanon
Pakistan
South Korea
Venezuela
Bahrain
Czech Republic
Hungary
Libya
Peru
Spain
Vietnam
Bangladesh
Denmark
India
Lithuania
Philippines
Sri Lanka
Yemen
Belarus
Ecuador
Indonesia
Macau
Poland
Sweden
Zimbabwe
Belgium
Egypt
Iran
Malaysia
Portugal
Switzerland
New Zealand
Bhutan
Estonia
Iraq
Mexico
Puerto Rico
Taiwan
 
Bolivia
Europe
Ireland
Mongolia
Qatar
Thailand
 
Brazil
Finland
Israel
Morocco
Romania
Tibet
 
Contact Prime Steeltech experts for detailed information
about your requirement to select the right products for your application needs!
Do you have any questions or need help with our services and products?
Submit an Enquiry Form request or Call us at +919393161504
Note: Please note that the information on this document is for illustration purposes only as information may vary with individual products, their grade and applications industries or uses and therefore cannot be guaranteed as accurate. © Copyright 2020 © Prime Steeltech All Rights Reserved (Terms of Use). Recreation of any materials from the site is strictly prohibited without permission. Prime Steeltech' products are sold exclusively through Prime Steeltech' website. Use Terms | Privacy. Please contact us to discuss precise product specifications and requirements and obtain advice on which products are required to suit your exact application needs
[email protected]