Staircase Tower
manufacturer, supplier, and exporter in India
Are you ready to elevate your projects to new heights with the Staircase Tower?
Embark on a new era of safety and efficiency with the Staircase Tower, exclusively crafted and supplied by Prime Steeltech, a pioneering name in the industry. Elevate your projects to unmatched heights by investing in the finest quality scaffolding tower available in Mumbai, India. With a legacy of excellence, we stand tall as one of the largest manufacturers, exporters, and suppliers of scaffolding solutions. When you choose to buy a Staircase Tower from Prime Steeltech, you're not just acquiring a product, but an assurance of precision engineering, durability, and unmatched expertise. Step up to success, step up with Prime Steeltech.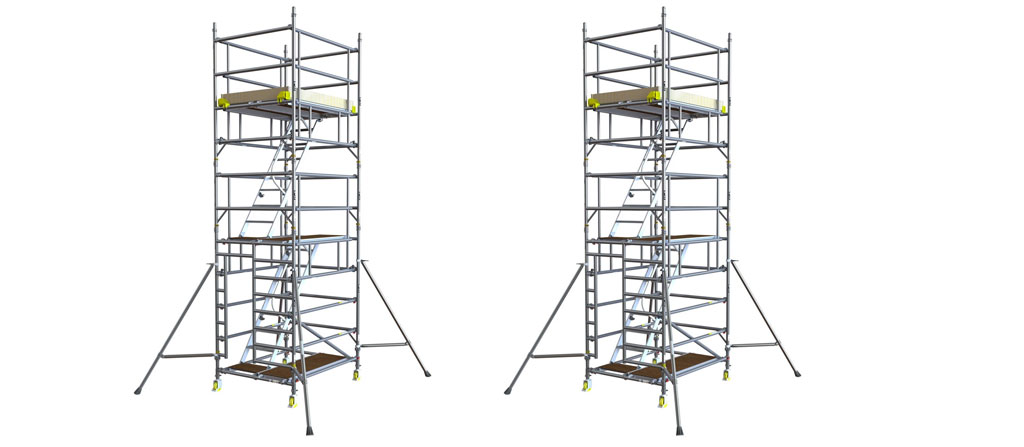 What is Staircase Tower?
Staircase Tower is a specialized scaffolding structure designed to provide safe and convenient access to elevated work areas in construction projects. The Staircase Tower is renowned for its precision engineering and durability that allows workers to navigate vertically and horizontally within a construction site, ensuring efficient progress and heightened safety measures. With Prime Steeltech's expertise and commitment to excellence, the Staircase Tower stands as a reliable solution for professionals seeking reliable scaffolding equipment.
Features and advantages of Staircase Tower
The Staircase Tower by Prime Steeltech boasts a range of exceptional features and advantages, making it an indispensable asset in various construction endeavours:
Robust and Low Maintenance: Engineered with a sturdy design, the Staircase Tower requires minimal upkeep, ensuring longevity and reliability.
Sturdy Construction and Easy Installation: The tower is constructed to withstand rigorous conditions while offering easy and hassle-free installation, saving valuable time on-site.
Fine Finish and Precision Design: Meticulously crafted for a polished appearance, the Staircase Tower is precision-designed to meet exacting standards of quality.
Versatile Climbing Solution: Designed to facilitate safe vertical movement between levels, providing a secure passage for workers.
Wide Range of Sizes and High Load Capacity: Available in various sizes, these towers can accommodate substantial loads, catering to diverse project requirements.
Rugged Structure with Exceptional Screw Holding Capacity: Built with a rugged framework, the tower exhibits remarkable screw holding capacity, ensuring stability and safety.
Rust Resistance and Weather Endurance: With a protective finish, the Staircase Tower remains resilient against rust and can withstand harsh weather conditions, enhancing its longevity.
Quality Material Sourcing: Crafted using high-grade materials sourced from trusted vendors, ensuring top-notch performance and durability.
Customizable to Application Needs: Tailored to specific process applications, the Staircase Tower can be customized to meet the unique demands of various projects.
Proven Design with Safety Accessories: Rigorously tested and proven for safety, the tower comes equipped with essential safety accessories, providing added peace of mind.
Applications of Staircase Tower
The Staircase Tower by Prime Steeltech finds a multitude of applications across various industries and construction projects due to its versatile design and exceptional features. Some of its key applications include:
Construction Sites: The Staircase Tower is an indispensable tool for construction projects of all scales, providing safe and efficient access to elevated work areas.
Demolition Projects: Whether partial or complete demolition is required, the tower facilitates safe navigation and access within the demolition site.
Maintenance and Renovation Work: It proves invaluable for maintenance tasks and renovation projects, enabling workers to reach and address different levels of a structure.
Painting and Finishing Work: Ideal for painters and finishers, the tower allows for precise application of coatings and finishes at various heights.
Electrical and Plumbing Installations: Electricians and plumbers benefit from the tower's secure access to install or maintain systems at varying heights.
Facade Installation and Repair: It's an essential tool for workers involved in the installation, repair, or maintenance of building facades.
Warehouse and Industrial Settings: The Staircase Tower is valuable for accessing high shelves, performing maintenance tasks, and conducting inventory checks in warehouse and industrial environments.
Film and Photography Productions: The tower provides stable and secure platforms for film and photography crews to capture shots from elevated angles.
Temporary Seating and Grandstands: It serves as a support structure for temporary seating arrangements and grandstands in event venues.
Shipyard and Dockyard Work: In maritime industries, the tower aids in ship maintenance, repair, and construction activities.
Aircraft Maintenance and Repairs: In aviation settings, the Staircase Tower is used for accessing different parts of aircraft during maintenance and repair procedures.
Window Installation and Repairs: Glaziers and window installers use the tower to safely access and install windows at varying heights.
The Staircase Tower's adaptability and reliability make it an indispensable asset in a wide range of industries and construction settings, ensuring safe and efficient vertical movement for workers.
Prime Steeltech Exports Market Area
At Prime Steeltech, we offer our products across markets to several destinations across globe to several destinations including India and Indian Subcontinent, Asia, Middle East, North America, and South America. Prime Steeltech is committed to customer fulfilment by delivering best quality products at competitive market prices.
Indian Cities:
Agartala
Bhandara
Dehradun
Imphal
Lakshadweep
Parbhani
Solapur
Agra
Bhavnagar
Delhi
Indore
Latur
Patna
Srinagar
Ahmedabad
Bhilai
Dhule
Jabalpur
Lucknow
Puducherry
Surat
Ahmednagar
Bhiwandi
Dindori
Jaipur
Ludhiana
Pune
Thane
Aizawl
Bhopal
Durgapur
Jalandhar
Madurai
Raipur
Thoothukudi
Akola
Bhubaneshwar
Erandol
Jalgaon
Malegaon
Rajahmundry
Tirupur
Allahabad
Bihar
Faridabad
Jalna
Mangalore
Rajapur
Tripura
Amravati
Bikaner
Gadchiroli
Jammu
Meerut
Rajkot
Vadodara
Amritsar
Buldhana
Ghaziabad
Jamshedpur
Mumbai
Ramtek
Varanasi
Ankleshwar
Chandigarh
Gurgaon
Jhansi
Mysore
Ranchi
Visakhapatnam
Asansol
Chandrapur
Guwahati
Kanpur
Nagpur
Ratlam
Warangal
Assam
Chennai
Gwalior
Karad
Nanded
Ratnagiri
Wardha
Aurangabad
Chimur
Haridwar
Khed
Nandurbar
Raver
Washim
Bangalore
Coimbatore
Hatkanangle
Kochi (Cochin)
Nashik
Sangli
Yavatmal
Baramati
Dadar and Nagar Haveli
Hingoli
Kolhapur
Nellore
Satara
Pune
Beed
Dahanu
Hospet
Kolkata
Noida
Shirdi
Salem
Bellary
Daman and Diu
Hyderabad
Kopargaon
Osmanabad
Shirur
Thiruvananthapuram
Bhadravati
Darjeeling
Ichalkaranji
Kozhikode
Pandharpur
Siliguri
Indian States:
Andhra Pradesh
Chhattisgarh
Himachal Pradesh
Madhya Pradesh
Mizoram
Rajasthan
Tripura
Arunachal Pradesh
Goa
Jharkhand
Maharashtra
Nagaland
Sikkim
Uttar Pradesh
Assam
Gujarat
Karnataka
Manipur
Odisha
Tamil Nadu
Uttarakhand
Bihar
Haryana
Kerala
Meghalaya
Punjab
Telangana
West Bengal
Countries:
Afghanistan
Bulgaria
France
Italy
Namibia
Russia
Trinidad and Tobago
Algeria
Canada
Gabon
Japan
Nepal
Saudi Arabia
Turkey
Angola
Chile
Gambia
Jordan
Netherlands
Serbia
Ukraine
Argentina
China
Germany
Kazakhstan
Nigeria
Singapore
United Arab Emirates
Australia
Colombia
Ghana
Kenya
Norway
Slovakia
United Kingdom
Austria
Costa Rica
Greece
Kuwait
Oman
South Africa
United States
Azerbaijan
Croatia
Hong Kong
Lebanon
Pakistan
South Korea
Venezuela
Bahrain
Czech Republic
Hungary
Libya
Peru
Spain
Vietnam
Bangladesh
Denmark
India
Lithuania
Philippines
Sri Lanka
Yemen
Belarus
Ecuador
Indonesia
Macau
Poland
Sweden
Zimbabwe
Belgium
Egypt
Iran
Malaysia
Portugal
Switzerland
New Zealand
Bhutan
Estonia
Iraq
Mexico
Puerto Rico
Taiwan
 
Bolivia
Europe
Ireland
Mongolia
Qatar
Thailand
 
Brazil
Finland
Israel
Morocco
Romania
Tibet
 
Contact Prime Steeltech experts for detailed information
about your requirement to select the right products for your application needs!
Do you have any questions or need help with our services and products?
Submit an Enquiry Form request or Call us at +919393161504
Note: Please note that the information on this document is for illustration purposes only as information may vary with individual products, their grade and applications industries or uses and therefore cannot be guaranteed as accurate. © Copyright 2020 © Prime Steeltech All Rights Reserved (Terms of Use). Recreation of any materials from the site is strictly prohibited without permission. Prime Steeltech' products are sold exclusively through Prime Steeltech' website. Use Terms | Privacy. Please contact us to discuss precise product specifications and requirements and obtain advice on which products are required to suit your exact application needs
[email protected]